25th Annual Fly Tying and Fly Fishing EXPO Guest Speaker, TU CEO Chris Wood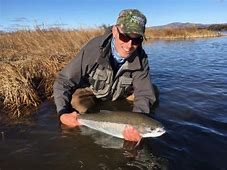 The featured speaker for this year's banquet is none other than trout Unlimited President and CEO, Chris Wood. Expect nothing short of an energized, dynamic, and enjoyable presentation.
Before coming to Trout Unlimited in September 2001, Chris Wood served as the senior policy and communications advisor to the Chief of the U.S. Forest Service where he helped protect 58 million acres of publicly owned land. Chris began his career as a temporary employee with the Forest Service in Idaho and also worked for the Fish and Wildlife program of the Bureau of Land Management. He is the author and co-author of numerous papers and articles and three books including, Watershed Restoration: Principles and Practices (AFS 1997), From Conquest to Conservation: Our Public Land Legacy (Island Press, 2003), and My Healthy Stream: A handbook for streamside owners (TU and Aldo Leopold Foundation, 2013).