2012 Hayden Creek Conservation Project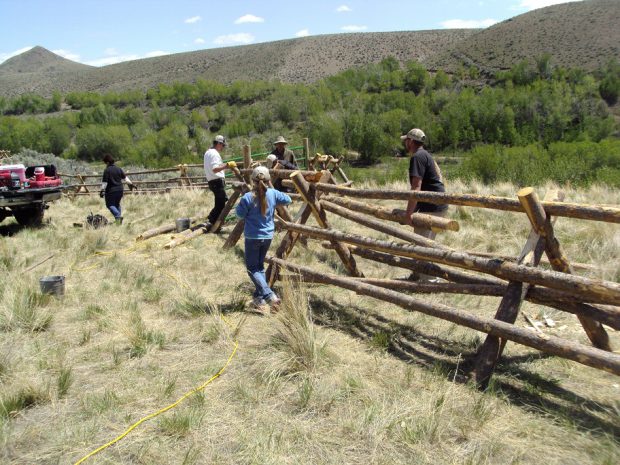 The Snake River Cutthroats completed one major conservation project in 2012. The May 19th project was on the Tonsmeire Ranch in Lemhi County, which has been protected by a conservation easement through the Nature Conservancy. This project also marked the 24th consecutive year for the Cutthroats working on conservation projects in Salmon River drainage. The weather treated us very well – no rain and more importantly, no snow as we have had to contend with on some of our spring projects in the Leadore area.
The Cutthroats, a few volunteers from the Upper Snake River Fly Fishers, and a crew from the Shoshone-Bannock Tribes provided the labor to build approximately 2,500 feet of jack fence to protect a riparian area along Hayden Creek, a major tributary to the Lemhi River. Sammy Matsaw, Sho-Ban Tribe, and Jerry Myers, Upper Salmon Project Manager for Trout Unlimited, coordinated the project. Because of the long drive from Idaho Falls, most volunteers showed up on Friday night and stayed until Sunday morning so that they can enjoy the traditional steak fry at the end of the project. The Tonsmeire family rented the Hayden Creek Grange Hall, which gave us a place to cook and serve meals, as well as room to camp and park trailers. As you can see from the group picture below, they also provided some much appreciated, cold, malted beverages for us to enjoy at the end of the project. Thanks to all those who donated their time and equipment, and who worked so hard to make this another very successful and enjoyable project. Special thanks to Cloyd for use of his large grill and for cooking and cleaning. Other chefs, sous chefs and cleaners included Buck, Mike, Duane, Arn, Susan and Pat. Thanks to Dan Garcia and the Salmon-Challis National Forest for the Rise to the Future baseball caps for all volunteers. And a very special acknowledgment to Kermit for the roasted rock chuck, truly one of the highlights of this year's project. Check with Allan Wooley to find out whether it really tasted like chicken.
Volunteers included: Wade Allen, Jeff Armstrong, Arn Berglund, Cloyd Bland, Andy Bosworth, Rory Cullen, Gale Danielson, Ava Danielson, Dan and Nancy Garcia, Buck Goodrich, Chad Hill, Ron Hover, Scott Long, Pat and Susan Marushia, Mike Miller, Duane O'Reilly, Dave and Brenda Pace, Paul Patterson, Kim Ragotzkie, Marv Stuki, Tom and Lori Salas, John Svobda, Mike Taylor, Allan Woolley, and Matt Woodard. The Sho-Ban crew included: Kermit Bacon, Sammy Matsaw, Brodie Sanchez, Sheldon Small, Theresa Tsosie, and Ray Wadsworth. I apologize if I missed any one or misspelled any names.
2,500 feet of jack fence built
 245 hours of volunteer labor building fence
 104 hours of travel time
 4,800 vehicle miles donated
 Use of two 4-wheelers donated (Marv and Tom)
 Use of three portable generators donated (Chad, Gale and Allen)
 Use of electric drills, power cords, hammers, chain saws, and various other tools donated
 Hayden Creek Grange Hall rental donated by the Dan Tonsmiere Family