Get ready for an electrifying November member meeting! We've got an absolute legend in the world of angling, Shaun Jersenzka, joining us as our guest presenter. Hailing from picturesque Missoula, Montana, Shaun brings over three decades of heart-pounding, river-rushing experience to the table. As the proud owner of Frontier Anglers in Dillon, Montana, he's a true pioneer in the wilds of Southwest Montana, guiding, outfitting, and running a shop that's the stuff of legends.

But that's not all, folks! Shaun's adventure doesn't stop there. For an astounding 19 years, he rode the adrenaline wave while guiding in the remote and untamed Tierra del Fuego, casting lines and chasing after those elusive sea run brown trout on the mighty Rio Grande. Now, he's here to share the thrill of it all with us. Brace yourselves for a mesmerizing journey as Shaun unveils his secrets and stories, taking us on a whirlwind adventure through the pristine waters of Southwest Montana. This is a presentation you won't want to miss!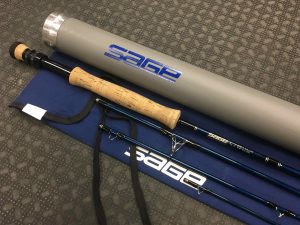 And to sweeten the evening, the Cutthroats will raffle a beautiful lightly used (thanks Bruce) Sage Xi2 890-4 Fly Rod.  This 9 foot 8 weight 4 piece rod is perfect for Salmon/Steelhead, streamers for Trout and Pike, Bass and of course the tropics.  Someone will be taking it home!!