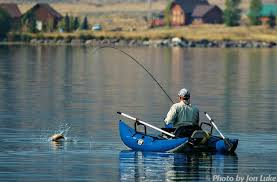 Jennifer Vincent , the Idaho Fish and Game expert on Henry's Lake will be discussing the current fish count and forecast for the 2020 fishing season there. Henrys Lake is one of the most popular still water fisheries in the state providing a unique fishing experience to anglers looking to catch trophy sized trout. As such, many individuals are passionate about the famed lake and interested in our ongoing projects, results and any information regarding Henrys Lake.
Jenn Vincent just reached two years as a Regional Fisheries Biologist and Manager of the Henrys Lake Fisheries Management Station for the Idaho Department of Fish and Game (IDFG). Not only has her management actions retained the fishing quality for which the lake is famed, she has continued to grow the long-term datasets of her predecessors, and has implemented a few new projects on the lake to help enhance our understanding of the lake environment and the trout that rely on it.
Additionally, Monica Zimmerman of the BLM will be talking about the reservation/overnight camping regulation changes on the South Fork of the Snake River.