Upcoming classes offered by the Snake River Cutthroats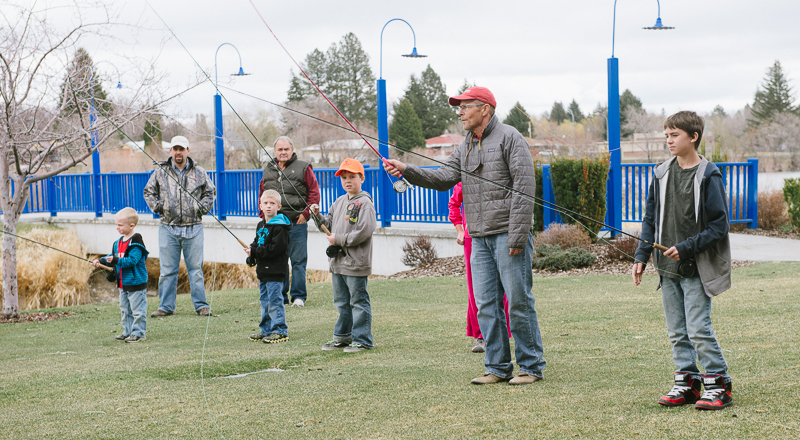 Snake River Cutthroats 2014 Class Schedule
Beginning Fly Tying Class – Beginning fly tying classes will start on Tuesday, January 7th, 2014 and will run for 6 weeks. Classes are 2 hours each starting at 7:00 PM. All basic fly tying techniques are taught with emphasis on fly patterns that work well locally. All required materials and hooks are supplied for the basic cost of $30. Instructors are some of the best in the country with an average of 20 years teaching fly tying. This is a great way to get started in a hobby for a lifetime. All ages are welcome. The students need to bring the following: fly tying vise, scissors, a bobbin and other useful tools. If you have doubt on what to buy, come to the first class and there will be extra equipment to use. For further information and to sign up for this class contact Jeff Armstrong at 522-7005.
Fly Rod Building Class – The Fly Rod Building Class will be held on Saturday, February 15th, 2014 from 8:30 am to 5:00 pm.  An informational pre-class will be held on Thursday evening, January 30th from 6:30 pm to 7:30 pm, which is 2 week prior to the all day class. The informational pre-class will allow instructors to help students decide which rod blank and components they will need for the class and where to buy the rod blank and components. The class is designed to build a quality fly rod at half the cost. The novice can easily build a fly rod with patience and this class. The cost is $30. This is a chance to get a fantastic fly rod at half the cost. Build a fly rod you will love to fish with.  For further information and to sign up for this class contact Jeff Armstrong at 522-7005.
Free Fly Casting Class – On Tuesday, May 6th and Thursday, May 8th 2014 starting at 6:30 pm there will be two free casting classes taught by FFF casting instructors.  Classes will last for approximately 2 hours and are located at Tautphaus Park by the fountain (southeast corner of the park off Boulevard).  This is open to everyone.  The class is designed for beginners and intermediate casting levels.  This is a great chance to start casting or improve you casting ability, and it is free.  Contact Jeff Armstrong 522-7005 for more information.  Some equipment can be provided for the students to use during the class.  Attend one or both classes.
Registration – For more information and to sign up for any of these classes, call Jeff Armstrong at 208-522-7005.  Please leave your name and phone number and the class or classes in which you are interested.