Some of our fly tiers will be in our Fly Tying Theater in Banquet Room 5. Click on the thumbnail below to see the times when they'll be presenting.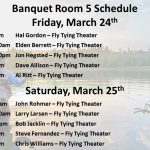 Fly tyers from across the region will demonstrate their skills. Individuals or small groups can ask questions and learn from these experts.
Win a box of flies from your favorite Expo fly tyer by entering the tyer raffle. 
Expect to see the following:
| | |
| --- | --- |
| Tyer: | Resides: |
| Dave Allison | Hamilton, MT |
| Austin Andrews | Rigby, ID |
| Chris Ashby | W. Bountiful, UT |
| Wes Ashcraft | Chubbuck, ID |
| Gary Barnes | Ririe, ID |
| James Banas | Ogden, UT |
| Al Beatty | Boise, ID |
| Gretchen Beatty | Boise, ID |
| Grant Bench | Idaho Falls, ID |
| Elden Berrett | Blackfoot, ID |
| Keegan Barrett | Idaho Falls, ID |
| Hunter Bidwell | Rigby, ID |
| Ken Bitton | Idaho Falls, ID |
| Shawn Bostic | Idaho Falls, ID |
| Paul Bowen | Rexburg, ID |
| Dave Brackett | Red Lodge, MT |
| Jay Buchner | Jackson, WY |
| Joe Burke | Wilson, WY |
| Paul Christensen | Ashton, ID |
| Brad Chinn | Hailey, ID |
| Ellen Clark | Ft. Washakie, WY |
| Tom Clark | Idaho Falls, ID |
| Bryant Cook | Vernal, UT |
| Tom Corbiere | Grants Pass, OR |
| Jeff Dean | Austin, CO |
| Tom Doxey | Ogden, UT |
| Rick Ellis | Sandy, UT |
| Mike Evans | Salt Lake City |
| Steven Fernandez | Venice, CA |
| Bill Fenstermaker | Eckert, CO |
| Randy Flynn   | Sun Valley, ID |
| Dan Gates | Mill Creek, UT |
| Dave Gibson | Farmington, UT |
| Doug Gibson | Newdale, ID |
| Kelly Glissmeyer | Rigby, ID |
| Michael Glissmeyer | Rigby, ID |
| Will Godfrey | Lewiston ID |
| Michael Gonnella | Grand Junction |
| Hal Gordon | St. Anthony, ID |
| Michael Gula | Parker, CO |
| Cathy Hamilton | Grants Pass, OR |
| Darren Huntsman | Idaho Falls, Idaho |
| Rockwell Hammond | Hailey, ID |
| Dave Hansen | Arco, ID |
| Jon Hegsted | Pocatello, ID |
| Ron Hicks | Twin Falls, ID |
| Dan Hodler | Ocean Shore, WA |
| Marty Howard | Heber City, UT |
| Gary Jones | Gallatin, MT |
| Bob Jacklin | West Yellowstone, MT |
| Andrew Jorgensen | Idaho Falls, ID |
| Gary Jones | Gallatin Gateway, MT |
| Perry Kelley | Ammon, ID |
| Tim King  | Providence, UT |
| Doug Kinney | Idaho Falls, ID |
| George Klomp | Idaho Falls, ID |
| Buddy Knight | Sandy, UT |
| Claron Krogness | |
| Dave Kruss | Reno, NV |
| Todd  Lanning | Island Park, ID |
| Vic Loiselle | Pocatello, ID |
| Murray Longhurst | Idaho Falls, ID |
| Matthew Marotz | Idaho Falls, ID |
| Tom Meade | Idaho Falls, ID |
| Greg Messel | Lecanto, FL |
| Bill Miller | Superior, MT |
| Dane Miller | Pocatello, ID |
| Brandon Morrison | Pocatello, ID |
| Greg Nielsen | Logan, UT |
| Marvin Nolte | Bar Nunn, WY |
| Terry Okahashi | West Jordan, UT |
| James Patton | Montrose, CO |
| Dale Piocos | Eagle, ID |
| Ron Quesnell | Burley, ID |
| Dave Raisch | Pocatello, ID |
| Gerry Randolph | Idaho Falls, ID |
| Layne Read | Chubbuck,, ID |
| Les Reitz | Twin Falls, ID |
| John Rohmer | Show Low, AZ |
| Al Ritt | Longmont, CO |
| Sumi Sakamaki | Rexburg, ID |
| Buddy Shaw | Idaho Falls, ID |
| Peter Steen | Cottonwood Heights, UT |
| Stew Stewart | Shingletown, CA |
| Steven Strable | Glide, OR |
| Thad Strom | Boise, ID |
| Cliff Sullivan | Valley Springs CA |
| Merrill Tea | Lewisville, ID |
| Robert Temple | Modesto, CA |
| Roger Thompson | Pocatello, ID |
| Alun Thomas | Salt Lake City, UT |
| John Van Derhoof | Long Beach, CA |
| Adam Vincent | Logan, UT |
| Joseph Vincent | Logan, UT |
| Les Warren | Manteca, CA |
| Greg Webster | Challis, ID |
| Chris Williams | Boise, ID |
| Linda Windels | Idaho Falls, ID |
| Shane Wootan | Shelley, ID |
| Olivia Wootan | Shelley, ID |
| Satoshi Yamamoto | Livingston, MT |
| Carl Yoshida | Willard, UT |
FLY TYER SCHEDULE