Click on the thumbnail below for the schedule of our programs.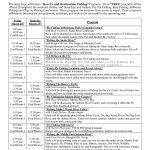 2023 Expo Programs
Free to the Public!
"Fishing Idaho's Wood River Valley"

Chad Chorney will speak about fishing Silver Creek, The Big Wood River, The Big Lost River and the Salmon River. Chad will discuss seasons, hatches, tactics and gear you will need to have a successful day.
Chad is Picabo Angler's General Manager and oversees the daily operation of the entire business. He has been a full-time fly-fishing, waterfowl hunting, and upland hunting guide, and is an accomplished freelance photographer and writer. Chad's photos and articles have appeared in such publications as Northwest Fly Fishing, Eastern Fly Fishing, American Fly Fishing, Gray's Sporting Journal, Anglers Journal, American Angler, Fly Fisherman, Fly Fishing and Tying Journal, TROUT, and Catch Magazine. Fishing travel has become one of Chad's passions, and each winter he spends several weeks hosting trips to Chilean Patagonia. Chad has fished extensively throughout the United States, Canada, Mexico, Belize, the Bahamas, Chile, and Argentina.
"Fly fishing Stillwaters"

Darren Huntsman will give strategies for local stillwaters, fishing local stilllwaters, and how to avoid crowds.
Darren Huntsman is as "local" as one can be, growing up on the banks of the Snake River just north of Shelley.  Darren was lucky to have a father who was addicted to the outdoors, and Darren was his shadow on countless fishing excursions, including annual trips chasing Chinook salmon down below the confluence of Bear Valley and Marsh Creeks that form the Middle Fork of the Salmon River.  Darren began fly fishing and tying career before high school age, and used cash paid from Ralph Alexander at the old Hackle Den to finance his flying fishing habits.  When Idaho lost its opportunity to fish for Chinook salmon in Idaho, Darren began guiding, and then hosting trips into Alaska.  After 22 years of spending a good chunk of his summers in Alaska chasing Kings and giant Rainbows, it's amazing he still has a wife.  The Henry's Fork has been a long time "piece of Heaven" for Darren, and several of the river's lodges and cabins carry Darren's signature in the form of custom stone work.  Most of the work during those summers revolved around the hatch timing on the Henry's Fork. However, Darren's true passion is fishing still waters with his fly rod.  The "rubber hatch" revolution of float tubes in the 70's and 80's is what kindled a burning fire to master the still waters with a fly.  Now each summer you'll find him on Henry's Lake, the late fall on Chesterfield, Daniels, and other southern still waters.  Wintertime means Pyramid Lake!  Darren is the owner of STLWTR Fishing Company, whose main goals are to educate fly fishermen what great angling opportunities still waters provide.
"Fishing the Middle Fork of the Salmon River"

Dave Raisch will describe what to expect on your six-day adventure: Fish species, Fly Fishing, Time of year, History, Scenery, Hot Pools, Wildlife, Whitewater and Rapids, Camp Life, and Pictographs. This is a wild and scenic wonder and forms a special bond with the people you journey through it with.
Dave has lived in Idaho since 1998, Biology student at ISU, and started guiding in 2013 on the South Fork of the Snake River. Dave grew up fishing for bass and pike in the Midwest. Dave is an avid fly tier and likes to chase big fish, whatever species they may be. Dave fell in love with the clean western rivers and spends all the time he can on those rivers.
"CJ Strike Reservoir on the Fly"

Tim Parrish will be discussing fly fishing CJ Strike for Smallmouth bass and Carp.
Tim is an Idaho outfitter  who specializes in Smallmouth bass and Carp, as well as Sturgeon on conventional gear, with over 100 fishing days a year on CJ Strike.
"Fishing the Main Stem of the Snake River"

Keegan Berrett's program will focus on fishing the Main Snake River from the Henry's Fork and South Fork confluence down to American Falls and below. He will discuss fly patterns, techniques, and timing.
Keegan was born and raised in East Idaho and grew up fishing with his dad, fly fishing and rowing a boat since 10 years old. Keegan started guiding part-time in 2015 and currently works for the Lodge at Palisades Creek.  He also help with Project Healing Waters Fly Fishing by bringing fly tying and Fishing to his fellow vets. Fly tying and Fishing are deep passions, and Keegan loves to share both with anyone who wants to learn.
"Fly Fishing Yellowstone Park's Cascade Corner"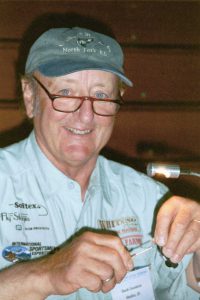 Buck Goodrich will share info on this most amazing piece of fly fishing history.
Buck has been fly fishing the rivers of eastern Idaho, southwest Montana and northern Wyoming for over 50 years. There is probably no one more knowledgeable then Buck about the southwest corner of Yellowstone Park where the famed waters of the Fall and Bechler Rivers flow. Buck has been with FFF for over 50 years holding many administrative posts and chairmanships of various conclaves. He has received the order of Lapis Lazuli Award, the ultimate award for individual achievement to the sport of fly fishing that the Federation bestows. His involvement with TU goes back 40 years and includes achievements in fly fishing excellence and conservation.
"Fly Fishing in the Salmon River Country"

Steve Stringham will discuss the Salmon River Country and everything it offers the Fly Fisher from Steelhead to trout.
An Idahoan by birth and fly fisherman by choice, Steve grew up fishing the rivers and lakes of his beloved home state, honing his skills and growing his love of the sport on the fabled waters of the Henry's Fork and Henry's Lake. Steve eventually left Idaho in his pursuit of his passion working as a fly fishing guide in Alaska. He settled again in the lower 48 where he worked as a fly fishing guide and commercial fly tyer in Bend, Oregon. There he built a reputation as one of the most knowledgeable and skilled guides on the Deschutes River. Steve returned to his home state with his wife Tammy and their two boys. In 2013, Steve fulfilled a lifelong dream when he opened the Salmon River Fly Box in his adopted hometown of Salmon where the men are men and the steelhead are scared. When he is not in the shop or with his family, you can find Steve on the river working on his snake roll spey cast, casting a bamboo rod to finicky mountain brook trout or bobbing in his float tube.
"Slide show and discussion of the Henry's Fork"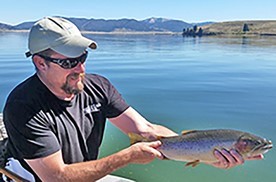 Todd Lanning and  Jennifer Lanning have 5 wonderful children together. Todd loves to hunt, fish, and twist up bugs on his vise. When Todd was 7 years old his Grandpa and Dad taught him how to fly fish. Todd became obsessed with learning about bugs and their life cycles. Todd joined the Marine Corps after high school to follow his Grandpa's footsteps. His Grandpa served during WWII in the Pacific. Todd was honorably discharged after 4 years and started working as a fishing guide in Sun Valley ID. Todd has worked in this industry for 20 years. Todd currently works for the Trout Hunter as a manager for the fly shop and also guides a few days.
"Exotic Fly Fishing Locations and Travel Advice"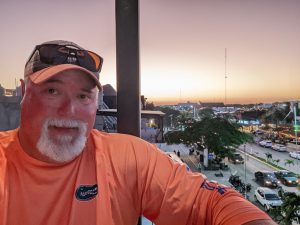 Traveling to fly fish in far-flung destinations is a lot of fun, but getting there and back has its challenges. Join Chris Hunt, one of the managing partners of Hatch Adventure Travel, for a thorough walk-through on how to travel, domestically or abroad, for some of the best fly fishing in the world. Hatch Adventure Travel offers great travel options from Montana to Mongolia and from the Yukon to Tiera del Fuego — Chris will offer some great travel advice and share some amazing photos and experiences from some of the best-known destinations for fly fishing all over the world.
Chris Hunt is a longtime journalist and author and now one of three managing partners in Hatch Adventure Travel. He's written five books on fly fishing and worked for Trout Unlimited for 16 years. He lives in Idaho Falls.