Todd will speak about fishing the waters of the Henry's Fork, as well as the Madsion river, Teton river and other area waters.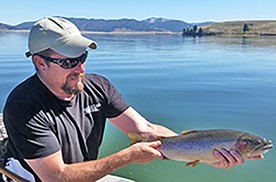 Todd was born and raised in Idaho to a hard working family of anglers. Some of his earliest memories were catching trout with his grandfather in and around the Cascade area of Idaho. He also enjoyed tagging along with his father on the Middle Fork of the Boise River. With his family background he was forever hooked on fly fishing.
From an early age he knew there were two things he wanted to do; follow in his granddad's footsteps and be a United States Marine and then become a fly fishing guide. From 1991 to 1995 he held the title of United States Marine and, after being honorably discharged in 1996, he moved to Ketchum Idaho and went to work for Headwaters Fly Fishing in Ketchum Idaho. Later he moved to Idaho Falls where he worked for a local outfitter and later he managed the fishing department at Sportsman's Warehouse.
Through a stroke of fortune Todd joined the Henry's Fork Anglers management team. He has two sons Grant and Grayson and a daughter Georgia.